HENRY SCHEIN CELEBRATES A DECADE OF PARTNERSHIP WITH MISSION OF MERCY
---
This year, Henry Schein, Inc., the largest distributor of healthcare products and services to office-based practitioners in the combined North American and European markets, celebrates a decade of partnership with Mission of Mercy. Mission of Mercy receives shipments of a broad selection of healthcare products and supplies two to four times annually through the Global Donation Program of Henry Schein Cares, the Company's global social responsibility program.
Henry Schein Cares' Global Donation Program helps narrow the disparity in access to healthcare in underserved communities through the donation of medical, dental, and animal health supplies to community-based health professionals and their organizations. One of the largest components of Henry Schein Cares, the Global Donation Program serves over 100 non-governmental organizations (NGOs) annually. Since Henry Schein's partnership with the program began 10 years ago, Mission of Mercy has received donations of supplies from Henry Schein Cares valued at more than $250,000.
Mission of Mercy will continue to use the dental supplies donated by Henry Schein Cares to provide free oral healthcare for individuals from underserved communities across Virginia. Mission of Mercy is a Program Champion of the American Dental Association's (ADA) Give Kids A Smile, a program that provides free dental services and educational programs for nearly 500,000 underserved children at approximately 1,700 locations across the United States every year. Henry Schein Dental, the U.S. Division of Henry Schein, serves as the exclusive professional product sponsor of Give Kids A Smile.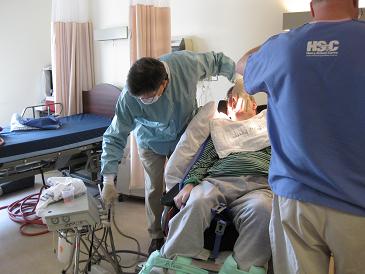 A patient receives free care from the Virginia Mission of Mercy program in Westpoint, Virginia, with supplies donated by Henry Schein Cares, the global social responsibility program of Henry Schein.
Our Success Stories