---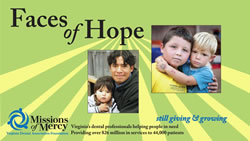 Mission of Mercy clinics are set-up in locations easily accessible to all populations that live in a specific geographical area. Patient transportation, if needed, is arranged through community partnerships to provide shuttle transportation.
Patients arrive on-site, register for services, and are asked to fill out and sign a health and release form. Since patients are treated on a first-come, first-served basis, the patients wait in line until their turn with a dentist. Patients are funneled through an initial screening where the volunteer dentist determines what procedures are needed and are wanted. Unfortunately, due to the sheer volume of patients and time constraints, the dentists are not able to address every dental problem, but rather the patients' most immediate need.
During the screening and in consultation with the patient, the volunteer dentist determines which procedures would most benefit the patient. Patients are given appropriate treatment wristbands and channeled either to the cleaning, extraction, or restorative area(s) for their dental work.
Volunteer dental professionals are required to fill out tracking forms for each patient, recording the number and types of procedures performed. If a patient needs operative care (extractions, etc.), he or she receives a post-op form that includes a local social service agency's telephone number and contact name. Should the individual experience complications in the days immediately following the clinic, the agency contact can refer the patient to a local dentist who has agreed to see MOM patients for emergency follow-up care.
Our Success Stories