Dominion Energy Charity Classic Birdies for Charity Program
---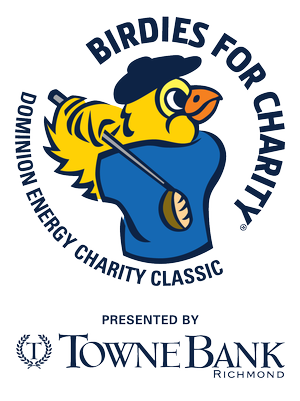 The Dominion Energy Charity Classic Birdies for Charity Program
PGA TOUR Champions First Round Playoff Event
October 19 – 22, 2018
The Country Club of Virginia, James River Course
Donations to the VDA Foundation through Birdies for Charity will be matched by 10%! Donors can choose to make a flat donation or make a "per birdie" donation if they want to have a little more fun.
WHAT IS A BIRDIE?
A "birdie" is a score of one stroke better than "par" for any golf hole on the course. "Par" is the normal expected score on any given hole. For example, on a par-4 hole, a score of 3 is a birdie.
DONATION INFORMATION
Online donations require a credit or debit card.
Flat-donations are processed immediately.
Per-birdie donations will be processed post-tournament once the number of birdies played has been determined.
Checks are accepted, payable to PGA TOUR Charities, Inc., designate VDA Foundation in the memo line, and mail to:
PGA TOUR Charities, Inc, PO Box 1065, Ponte Vedra Beach, FL 32004, Attn: Dominion Energy Charity Classic
Donor does not need to be present to donate.